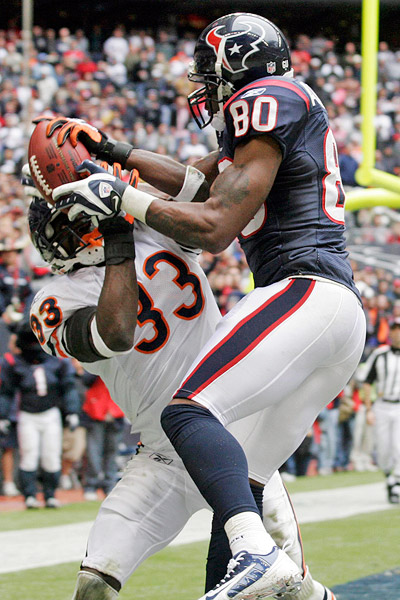 They say you can't win your fantasy football league on draft day, but you certainly can lose it. As I said before, fantasy football is all about value. You want to maximize the value of each and every pick. Every time you draft a player a fantasy football bust who doesn't perform to his draft position, you're at a disadvantage.
With that said, here are five fantasy football players that I think are overrated in drafts right now.
Note: ADP Data from FantasyPros.com
1. Maurice Jones-Drew (ADP: 8.5)
Jones-Drew was great last season, but his stats were a bit inflated by a four touchdown game and a 169 yard game in Week 17 when most fantasy leagues don't play (also his only game with over 125 rushing yards). I'm not sold on Blaine Gabbert and the Jaguars offense to keep defenses honest and his holdout doesn't help his cause. I wouldn't take Jones-Drew in the first round.
2. Peyton Manning (ADP: 53.6)
He's had four surgeries on his neck. If that doesn't scare you, I don't know what would. One hit and his season and career could be over. Now you can say that about any player, but if I'm a Manning owner every time he gets I'm holding my breath and praying he gets up. Quarterback is too deep for me to take a chance on Manning.
3. Demaryius Thomas (ADP: 50.8)
Thomas is a hot name right now in fantasy circles. His ADP will only get higher as the summers progresses and I have seen him go as high as the early fourth round in mock drafts. He has great physical talents, but still needs to improve his route running and his hands can be inconsistent. I'd much rather take his teammate Eric Decker in the 7th or 8th round (ADP: 78) than Thomas in the 4th or 5th.
4. Andre Johnson (ADP: 21.7)
Johnson is currently the third receiver being taken in fantasy football drafts and that's way too high in my opinion. If you knew he would stay healthy then sure, but he's played in all 16 games only three times in the past seven seasons. It's safe to say he's injury prone. He's also never topped double digits in any of his nine NFL seasons. I want more stability than that if I'm taking him in the second/third round especially when WR is so deep.
5. Shonn Greene (ADP: 60.8)
Greene has disappointed fantasy owners for two seasons in a row and I think he'll make it three. He's the type of back that can what's blocked for him, but nothing else. He might be the least explosive back in the league, recoding only one run over 30 yards the past two season. The Jets have three young backs niping at his heels (Bilal Powell has reportedly looked terrific in camp) that will push him for playing time and I think the Jets coaching staff will finally realize during the season he can't carry the load. He's even less valuable in PPR leagues.
Other Players to Keep an Eye On: Mike Wallace, Fred Jackson, Every Panthers RB, Isaac Redman, Benjarvus Green-Ellis, Jahvid Best

---
You May Also Be Interested In:
Tags: 2012 fantasy football, Andre Johnson, Demaryius Thomas, Fantasy Football, fantasy football adp, fantasy football busts, fantasy football overrated, Maurice Jones-Drew, Peyton Manning, shonn greene